We have enjoyed our weeks of summer vacation with no rigid schedules, homework or many extra activities.
Here are some of the highlights:
In June, we took two one night camping trips--one with several neighborhood families and one with A's Brownie troop. A enjoyed a drama camp, while J took some golf lessons. J went to boy scout camp the end of the month. We enjoyed our neighborhood 4th of July parade.
July kicked off with 4th of July parties and my grandma's birthday (on the 4th) and our annual viewing of the fireworks at a local country club. The next afternoon we got on an airplane and headed to California for our annual trip to see dh's family. We were gone 10 days and the kids had a blast. We visited our favorite
beach
went to
Disney
and California Adventure where I went on
California Screamin
! Wow, that was fast!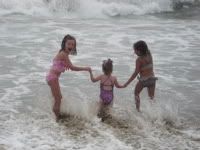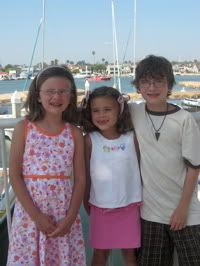 We spent lots of time playing and swimming with grandma, aunts, uncles and lots of cousins. Grandma also took us to the
Long Beach Aquarium
and we enjoyed the
Laguna Beach Sawdust Festival
.
We were able to see special neightbor friends who now live in San Diego and enjoyed a night watching dh's brother and SIL perform at a local taco restaurant in Dana Point. The time always goes much too fast and we miss our family a lot.
The end of July we took in two county fairs, pooltime, BBQs with friends. J enjoyed 3weeks of band camp to get ready for middle school band class and the two girls went to farm camp for 5 mornings one week. We also enjoyed lots of playdates and sleepovers with friends.
August brought a trip to a friend's lake house, trying to learn to waterski (J) for the first time, a beach day with a night-time beach bonfire, back-to-school shopping, more playdates and a last hurrah trip to
Michigan Adventure
.
Of course, we stayed up later at night, often playing with friends, the crickets and fireflies outside way past our usual bedtimes. We then "slept in" and cuddled all in bed in the mornings. We love summer and it went by way too fast.